DEVOTED
An initiative designed to strategically and intentionally fulfill God's vision for Centerpoint over the next two years
PRIMARY GOAL: 100% ENGAGEMENT
WE WANT EVERYONE TO TAKE HIS OR HER NEXT STEP IN DISCIPLESHIP AND GROW IN GENEROSITY.
338
Total number of devoted commitments
127
First-time givers since the launch of DEVOTED
860
Total number of givers since launch of DEVOTED
SECONDARY GOAL : $10.2 MILLION
TWO-YEAR INITIATIVE TO FUND CURRENT VISION AND BUILD A NEW FACILITY FOR MINISTRY
$5.4M
Total committed to DEVOTED
$4.7M
Actual giving to date
ARRIVAL OF STEEL- 3/18/21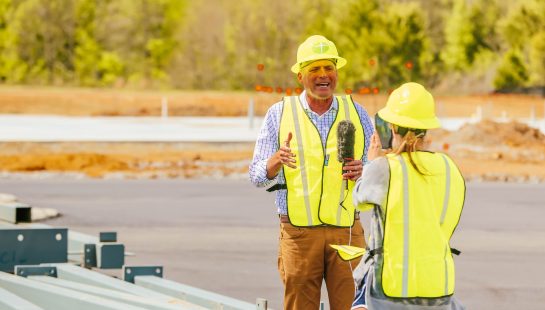 PARKING LOT- 3/09/21
CONCRETE POUR- 2/24/21
RECENT UPDATES REGARDING OUR NEW FACILITY
GROUNDBREAKING CEREMONY- 9/20/20
DEVOTED TO LOVING HIS CHURCH
Frequently Asked Questions
What is the DEVOTED initiative?
DEVOTED is a two-year initiative to equip and empower ALL OF US to grow in our relationship with God, love His Church and use our time and resources to fulfill His Mission, which includes building a permanent facility in Prattville.
We have two simple but challenging goals for this initiative:
• The first goal is 100% engagement by every person involved in Centerpoint. Church is a family, and together, we will succeed by each one of us doing our part.
• The second goal for the DEVOTED initiative is two years of generous financial giving.
We began re-evaluating our facility needs when the land around the Marriott Legends began to sell and the parcel of land on which we park every Sunday was put up for sale.
The amount spent on rent each month for limited use of our current facilities (church office, PCA, the Marriott Legends) has led us to conclude that we can be better stewards of our resources in the long term if we invest in a permanent facility.
"A prudent person foresees danger and takes precautions. The simpleton goes blindly on and suffers the consequences." Proverbs 27:12 (NLT)
Why do we need a building?
We have an incredible opportunity in front of us as we follow God's leading to establish a permanent home for Centerpoint in Prattville. This new facility will give us a place to do ministry all week long and expand our ability to worship and invest in our children and students. It will be a launching pad to send many people out to serve in missions and establish more Centerpoint locations as the Lord leads. It will give us ample room to park and the space we need to train leaders and equip God's people to do His work.
• Children's Ministry: A dedicated children's area will allow us to provide state-of-the-art, clean, secure spaces for nursery and children's ministry which are vital to reaching young families. Children's ministry outreach events and midweek ministry programming will also be greatly enhanced.
• Student Ministry: Our student ministry will have a permanent worship space every Wednesday night for middle school and high school students.
• Ease of Use: Families with small children and students will find it much easier to attend midweek events with drop-off and pickup being in one location as opposed to multiple locations under our current arrangement, and ample parking means a better experience for everyone.
• Leadership Training: A permanent facility will allow us to better equip our people through training events and conferences for leaders, volunteers, parents, marriages, men, women, and various age groups.
• Availability: With a permanent facility, we will no longer be limited by the availability of property we don't own.
• Ministry Expansion: A permanent facility allows us more ministry opportunities throughout the week and will serve as an organizational hub and resource center for all of our locations.
• Sunday Experience: Dedicated worship and common areas will improve flow and connections with one another. Spending less time setting up and breaking down will allow for more relaxed conversations and connections.
Our estimated projections at this time are between $7.5 and $10 million. This includes the purchase of the property, site development, design, construction, furniture, fixtures and equipment. There are many variables in the estimate including the amount of acreage, the square footage of the building, and various design fees.
How do we intend to pay for this?
We will join together as a church family in making commitments to a ONE fund, over and above our current giving for a period of two years. This generosity initiative is called DEVOTED. These commitments, combined with money we have set aside in preparation for building, will allow us to have our own facility debt-free or with very minimal debt in just a few years.
Our DEVOTED initiative utilizes a ONE fund approach which combines our operating budget and building initiative for the next two years; therefore, specifically designating any portion of your giving will not be necessary.
How long will it take before we are in our building?
We are estimating a two-year process from the time we close on property with six months for site development and 18 months to design and build.
Can we keep meeting at the hotel while we build?
Yes, we have a two-year recurring contract with the hotel, which renews each week.
Are we getting outside help/advice?
Yes, we are partnering with Generis, a company that is helping us design a strategy based on biblical principles, best giving practices, and our ministry's DNA to fund God's vision for Centerpoint.
Who makes the decisions in this process?
Our building committee makes the decisions regarding this process. It is made up of elders, deacons, and staff members who are qualified and knowledgeable in the financial planning and construction of a permanent facility.