BE THE CHURCH
"Dear children, let's not merely say that we love each other; let us show the truth by our actions. Our actions will show that we belong to the truth..." 1 John 3:18-19
#ONECHURCHMANYHOMES #FOR334
CHURCH FAMILY AND CONNECT GROUPS
Connect Groups are still connecting with one another and showing love during this time. Some families recently watched the online worship services together while others are meeting together via Zoom technology. Many of our church family have come together online to watch the services during this time. Our online ministry is making strides, and we love seeing how God can use different measures for the Gospel to be spread.
Prattville Connect Group practicing social distancing at the Clock Tower Hill
Lantz family worshipping online
Osterman kids worshipping online and watching "Daddy" lead us in worship
Newman's worshipping online
COMMUNITY INVOLVEMENT
Our local ministries are still out in the communities being the hands and feet of
Jesus during this trying time. Our staff has had the privilege of praying for some of our local businesses as well as supporting their efforts. Other team members are still helping deliver food via drive thru services, handing out letters of encouragement to neighbors and those in need, or doing "Drive By Blessings" to sing and offer encouragement to fellow neighbors. #For334
AICC in Prattville stocking up the food pantry
AICC in Prattville getting ready to pass out food
Mercy House in Montgomery packaging food for those in need
Letters sent by KCG leader and PCA teacher to KCG kids for encouragement
Pastor John supporting a local business with take-out
April working with Meals on Wheels to distribute food to Autauga county residents
Passing our encouragement cards to neighbors
Donations dropped off at church office by Frito Lay to distribute to those in needs
Packaged food ready to be distributed from AICC
McHenry's do "Drive by Blessings" with their family in Wetumpka community
Family Coordinator at Wetumpka campus doing "Drive by Blessings"
McHenry family doing "Drive by blessings"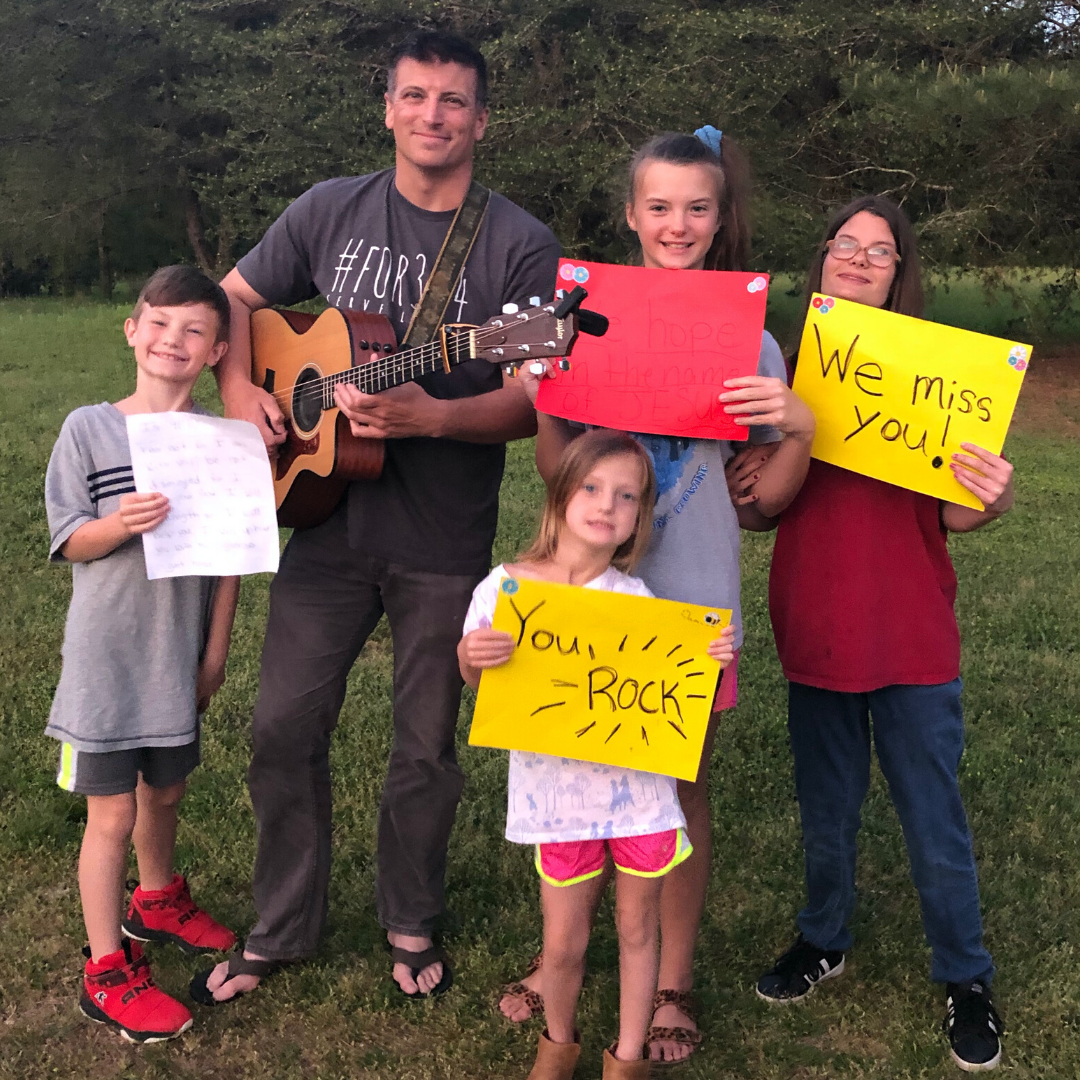 McHenry's doing "Drive by blessings"
Amanda McHenry showing signs they made for "Drive by Blessings"
KCG kid selling Lemonade to her neighbors
Message received from Beef o'Brady's
CHILDREN'S MINISTRY
Our Children's Ministry is still going strong! Kids Connect Groups (KCG) are still gathering together via Zoom technology with their Connect Group leaders on Wednesday nights. Mr. Jay is posting DAILY videos on YouTube and Facebook as encouragement to our children and reminders to stay connected with God's Word. Mrs. Celia is still teaching the Word on Wednesday's with homemade videos, and all the children's lessons are available every Sunday morning so our kids don't miss a beat. Some of our small group leaders are even passing out goody bags to the kids in their small groups! WOW!
KCG sending thank you notes
Mrs. Tina, KCG leader, handing out goody bags to her Kids Connect Group members
Watching Children's Ministry Sunday morning worship
KCG leaders handing out goody bags to their Kids Connect Group members
Watching Children's Ministry Sunday morning worship
Mr. Jay making awesome videos
Mrs. Celia making awesome videos
Montgomery Children's Ministry Connect Group meeting together via Zoom
STUDENT MINISTRY
Our Students Ministry is really finding new ways to go deeper and stay connected with one another. Every Wednesday night, our students are able to watch a video put together by our Student Pastor, Corbin Muntz. He involves other members of the staff, the student Connect Group leaders, and even students themselves in making these videos. The students are enjoying watching this fun, interactive way of learning about God's Word. Student Connect Groups are still gathering via Zoom technology with their Connect Group leaders, and the students are enjoying the time of connection to God's Word and each other.
Student Connect Group meeting via Zoom
Student Connect Group leaders meeting via Zoom
Student Connect Group meeting via Zoom
Corbin making awesome videos
NEW CENTERPOINT BABIES
Meet two of our newest worship team members at Centerpoint Prattville, Baby Harris and Baby Ely. Congratulations to one of our drummers, Keith Harris, and his wife, Lauren. Congratulations to one of our guitarists, Jonathan Ely, and his wife, Nicole. We are so excited for your new life adventures!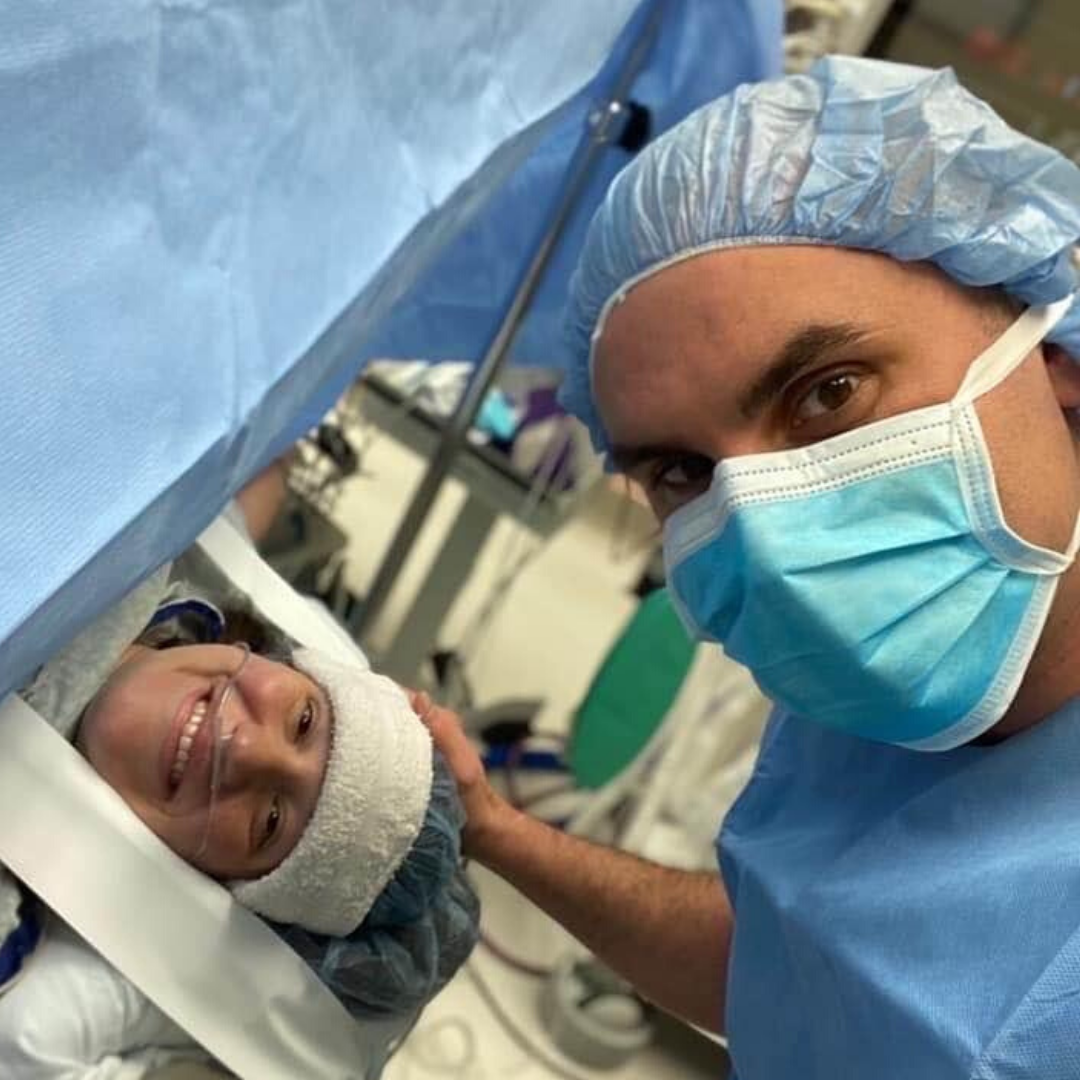 Welcome Baby JonMichael Ely!
Jonathan and Nicole Ely with Baby JonMichael
NEW FACILITY
The process on the new facility for Centerpoint Prattville is still moving forward. Over the past weeks and days we have completed the conceptual design, narrowed our selection of general contractors, and begun final discussions with them. We have also completed a substantial portion of our site survey and topographic elevations, began design work with a Civil engineering firm, and secured financing from a local bank.
Please see the exterior concept design of the future facility below.
EASTER ART
Easter Sunday is coming, and families in our community and church are getting ready with some awesome chalk art. Some of our other KCG kids are just enjoying being outside in the sunshine with their chalk and coming up with cool drawings! We love seeing all the creative designs!